(Last Updated On: June 21, 2023)
Whether this is your first time or one of many, it's a good idea to respect your fellow campers. Following these simple campsite etiquette rules will make sure you and your neighbours have a wonderful vacation.
Related Topic: 5 Easy Steps to Leveling Your Travel Trailer
Following these simple rules and etiquettes, will ensure that everyone has a great time.
RV Camping and Campsite Etiquette
1. Follow Campsite Rules & Regulations
Most campsites have individual rules and regulations that you must follow. When checking into your campsite the host most likely will provide you with a sheet with all the rules and regulations that you must follow.
Typically the guidelines will outline how many people can be at each campsite and the speed limits when traveling within the campgrounds. These rules will outline what you can and cannot do while camping at that particular campground. When you respect other campers rights, they will respect yours as well.
2. Don't Park Next to Someone if there are lots of other spots open
When you arrive at the RV campsite try not to park next to someone if there are lots of other open spaces elsewhere. Nothing can be more annoying to someone, having someone park right next to them when there are many other sites available. Sometimes this cannot be avoided especially on busy on weekends.
If you're an avid boondocker having someone parking right next to your RV is definitely unwelcomed especially if you're in the middle of the desert and there are lots of other places someone could park. Always remember to try to give other people their space, when possible. Leave as much space between your camp and other campers as the situation allows.
3. Don't Leave your outside lights on all night long
You will never see this in any rule book but it's common courtesy to turn off your awning lights when you retire for the evening. It's okay to leave the small amber light on at night as it should not bother your neighbours.
No one wants to go to bed at night having their neighbours bright outside lights blaring at them when they are trying to sleep or enjoying the stars at night. Once again this is just common courtesy. Your fellow camper could be sensitive to light when trying to sleep or perhaps just trying to enjoy tonight's sky.
4. Respect Other Campers Space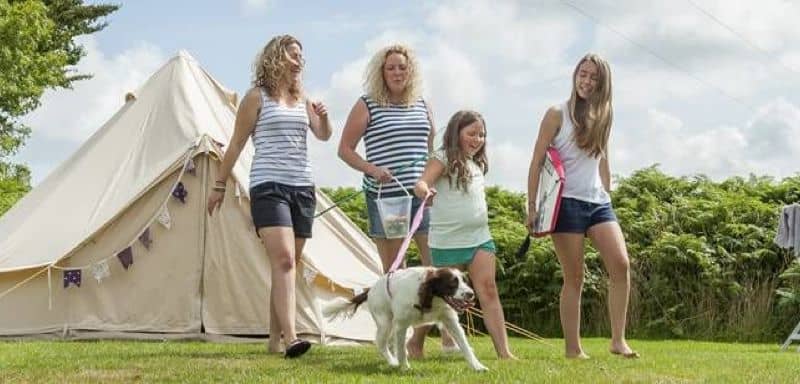 One of the worst things you could do while camping is to walk through someone else's campsite without asking. Just because it could be faster to get to the facilities through a campsite doesn't mean that you should be doing it.
Be polite and go around.
Your campsite is just like your home's backyard and is considered private property by most campers. Be mindful of your neighbours privacy. If you're camping with kids make sure they follow this very simple rule as well.
5. Mind Your Pets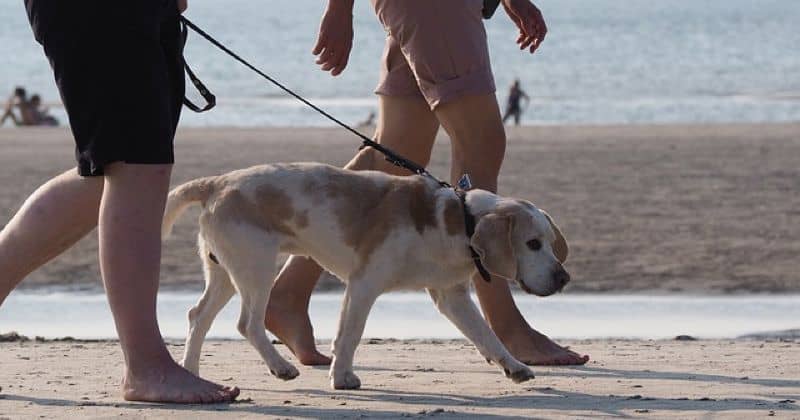 We love taking our dog camping with us as do most campers. The fresh outdoors is good for both you and your pet. Enjoy camping with your pet while respecting other campers.
Clean up after your dog
Whether you're at your campsite, out for a walk or hiking on a nearby trail be sure to always clean up after your pet. Most cities have bylaws to enforce cleaning up after your pet. if at all possible try to keep your dog from going to the bathroom on someone else's campsite.
How would you feel if someone came along and let their dog go to the bathroom and didn't clean up after it. I'm sure you wouldn't be happy. Most campgrounds provide doggie bags to make cleanup easy and convenient.
Keep your dog on a leash
Most campgrounds have rules that require your pet to be on a leash. Even though your dog may be friendly, not everyone is a dog lover. Keeping your dog on a leash is for your dog's protection as well as others.
Some dogs are sensitive to unexpected noises like thunder, a car backfiring or someone setting off some firecrackers. Having your dog on a leash can give you some comfort in knowing that your dog can't run off unexpectedly.
Don't leave your dog alone
If you can avoid it don't leave your dog tied up outside or in your RV alone. If you're out for the day and you need to leave your dog in your RV, be sure to leave fresh water and several windows open. You should set your air conditioning to a comfortable level so that your dog doesn't overheat.
In the middle of the summer a trailer can heat up quite quickly without air conditioning running. When we go out for a few hours during the middle of the day we typically set the air conditioning unit below 80F and leave a few windows open for fresh air.
6. Respect Quiet Hours
Most campgrounds have rules regarding quiet time. The number one complaint for many campers is noise. Most campgrounds quiet hours are usually from 10pm to 6am. You can verify this with your camp host or from the rules and regulations they provided you when you checked in.
This doesn't mean that you can't enjoy your campfire during those times, you just need to be respectful of others. You may be on vacation or on your weekend getaway but there are others that full-time in their RV and are not there to party.
If you're camping at your local race track after a race you may find that there is no quiet time. The tracks I've visited normally turn into a huge party and can go all night long.
7. Slow Down When Driving & Obey Posted Speed Limits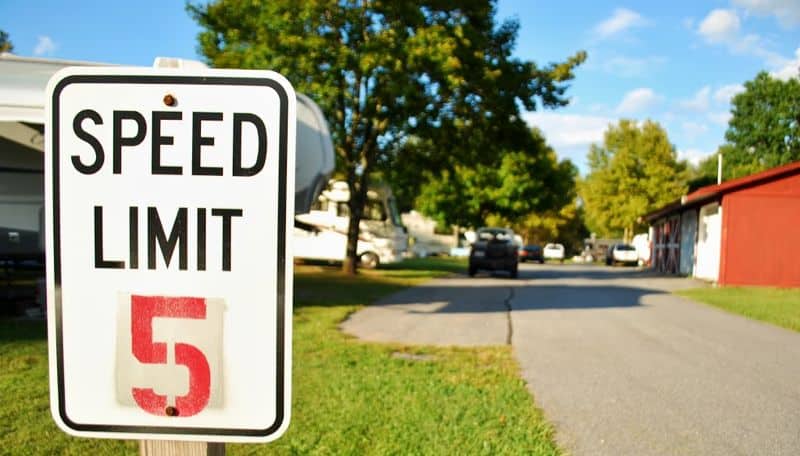 Follow Campground Speed Limits
Most campgrounds I've visited have a posted speed limit of 5 miles per hour for the safety of their campers. Drive slowly and be aware that kids or dogs can appear out of nowhere. You're on vacation, slow down and take your time you shouldn't be in a rush.
I normally just idle through the campground with my foot on the brake ready to stop quickly, if needed. I can't tell you how many times I've seen people drive through a campground at over 20 mph kicking up dust without any concern for fellow campers. Slow down and be safe.
8. Leave the campsite cleaner than when you first arrived
You should always leave the campsite cleaner than when you arrived. Be sure to pick up and dispose of all your garbage before leaving. One thing we do as a family before we leave is do one last check over of our campsite to make sure we haven't left anything unexpected.
Can't tell you how many times we found something during this last check. Also campsites with water, I always spray a solution of 50% bleach and water before and after using them. You never know what the last person did when it comes to the sewer and water. It's better to be safe than sorry.
9. Late Arrivals and Early Departures
If you're arriving late or leaving early during normal quiet hours try to be as quiet as possible.
Late Arrivals
If you're arriving once it's has gotten dark, do your best to minimize the noise. If it's been a long day of driving, you may just want to park your RV and set it up in the morning. Most likely you won't need to hook up the water or sewer right away.
What I normally do if this happens, is park the my trailer on the most level part of the campsite, plug in the power and leave the rest for the morning.
Early Departures
If you're planning on leaving really early in the morning try putting away most of your camping gear the night before. This will make for a quick and easy departure for yourself and will minimize the impact on your fellow campers.
A few things that I put away the night before are my BBQ, ground mat, fire pit, and any other items that I would not be using in the morning. Another really good idea is to hook up your trailer to your truck the night before as well.
We pretty much have everything ready to go in the morning other than disconnecting the power, water and closing up the awning and slides. Planning is everything when it comes to a quick and easy departure. Once you've done it a few times, it becomes second nature.
10. Be A Good Neighbour
Once you've arrived at your campsite, introduce yourself to your neighbours. Part of the fun in camping is meeting new people from different parts of the country. You already have one thing in common, the love of camping.
If this is your first time camping, don't feel afraid to ask questions and get advice from a seasoned camper. I've learned so much from other campers over the past few years of camping.
11. Don't Leave A Campfire Unattended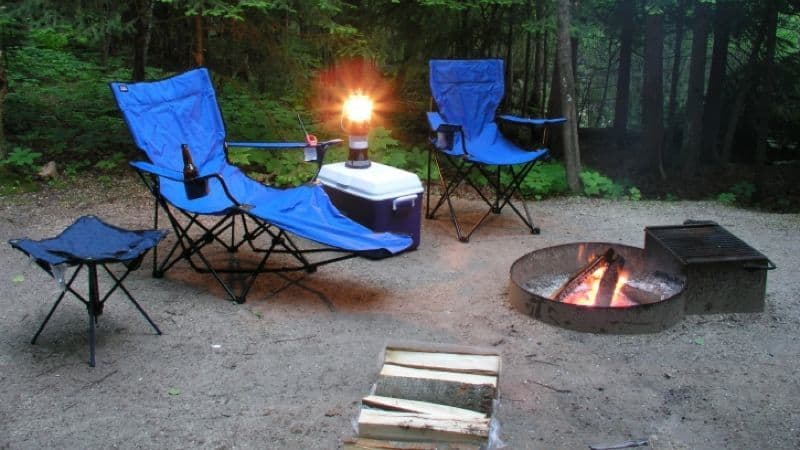 Unattended campfire
Before starting a fire check with your camp host to ensure there are no fire bans or any restrictions requiring you to use an above ground fire pit or designated fire ring. Having a campfire is one of the best part of camping.
Follow the campground rules is essential for your safety as well as others. Never leave your fire unattended and always put it out before you retire for the evening. We use an above ground fire pit with a screen when having a fire. We keep the fire to a minimum using smaller pieces of wood and covering it with the screen.
This minimizes the chance of any embers starting a fire or burning our ground mat. When you decide to retire for the evening, pour a minimum of 3 gallons of water over the coals to ensure the fire is out and can't start up again.
12. Generators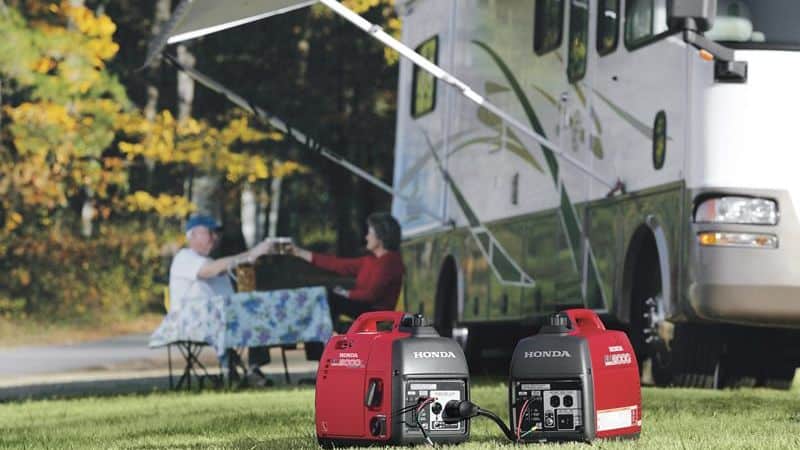 Camping with a Generator
If you're camping at a site that has power already then you don't need to worry about any generator rules. Most state parks don't have power outlets so you must rely on your batteries, solar or a generator. Follow the campsite rules regarding generator usage.
No one likes the sound of a noisy generator. Have you ever noticed where they put the generator when they're camping. Most times they put it to the back side of the trailer so they don't have to hear it. Can't tell you how many times I've seen this done to me when I'm right beside them. It's so annoying. Never use a contractor style portable generator as they are so loud.
I'd recommend using a Yamaha or Honda inverter style generator as they are rated as the quietest generators around. If you happen to have a built-in generator that exhaust out to the back of your RV, I'd suggest getting a pipe that can be added when you're camping do you have the exhaust go up away from your neighbours.
A properly equipped RV should only require to run the generator for a couple hours to maintain the batteries. There is really no requirement to run the generator all day long.
Our trailer is equipped with a 250 watt solar panel, 2500 watt inverter and 300 amp hours of batteries. This is more than enough to watch TV every evening, use our lights and listen to the radio all day long.
Having solar and generator is the best of both worlds. Minimizing your generator usage will keep your fellow campers happy.
Final Thoughts
Follow the Golden Rule, if you are not sure of the proper campsite etiquette, think of how you would like to be treated. If you think something may bother your neighbour, I'd suggest you go ask them. If something is bothering you, go talk to the camp host.
If your concerns have not been addressed, you may consider moving to another site or another campground all together. Camping is fun for adults and kids alike.
Families that camp together stay together.
If you're looking to purchase a new Tesla, consider using our Tesla Referral Link.